February 9, 2018 2:56 pm
Comments Off

on HARDWARE Metal Spinning Targets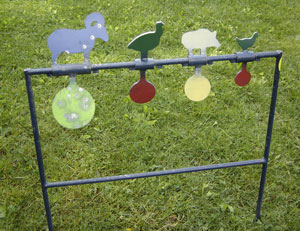 Product Testing Articles
by the Staff of Manhattan Shooting Excursions
Originally Published in The Bullet, The Journal of the New York State Rifle & Pistol Association
Even the most disciplined target shooters want to unwind with a round of plinking, and there's no better way than to use reactive metal targets like the ones I recently tested.
I bought several reactive targets from Metal Spinning Targets ("MST"), of Leroy, N.Y. in preparation for an outreach shoot because they are a fun target to interest an inexperienced crowd, yet they give a presentable image of shooting sports that "junk yard" targets such as tin cans or bottles do not.
I selected the .22 caliber rimfire "NRA Quad" and several "Magnum" swingers. The NRA Quad is a spinner that uses silhouette shaped targets (e.g. ram, turkey, chicken, pig) on the upper side of the spinner and round paddles on the lower side. Since MST uses a computer controlled laser to cut target faces, you can order any shape you want and the cuts are neat and precise. They have made targets in the shape of poodles, cats, deer and roosters and also make dueling trees, plates and other reactive targets that can handle up to .50 BMG.
John Crispell of Crispell's Sports in Ulster County and I tested these targets. Shooting was done at 30 yards (25 yards is the minimum safe distance to avoid back splatter) using cartridges rated by MST as suitable.
The NRA Quad worked very well. High speed copper plated rounds did not even dimple the ¼" mild steel. For the magnum rated swingers, .44 and to a lesser degree, .357 magnum rounds produced small dimples on the ½" mild steel. Hardball .45ACP and lesser rounds had no noticeable effect aside from removing the paint and making the target more challenging to shoot. (For even more challenge, use paint that blends with the background!)
MST targets can be mounted by driving the frame into the ground, or using an optional target stand. The first method, however, does not work well on anything but soft ground and an improvement would be to point the ends. I discussed this with MST owner Dave Kasinksi, who explained that his concern over non-sense lawsuits– heavy targets falling out of the shipping cardboard or being dropped on one's foot– prevented him from selling pointed legs. Another improvement would be to include a sticker on the back of each target bank stating the calibers it was rated for and the minimum safe distances it should be shot from. This advisory was on only one of the 4 banks of targets I bought.
Construction quality is excellent. Both the rimfire and magnum models use solid ½" round bar for the frame and the same thick tubular steel for target axles. Thus, the only difference between these models is the thickness of the target faces.
The MST targets I tested are far superior to imported spinners from Sportsman's Guide and Walmart which use the absolute minimum thickness steel and flimsy welds. The only advantage of those is that their lighter axles and faces spin more rapidly when hit.
The products I tested from Metal Spinning Targets earn my recommendation. They are slightly pricier than the Walmart variety, but will last much longer, are made in New York, and you can design your own custom target…perhaps in the shape of the neighbor's obnoxious, malodorous pit bull!
PRODUCT SOURCE: Metal Spinning Targets
www.metaltargets.com
Categorised in: Uncategorized
This post was written by elitesadmin