February 9, 2018 2:57 pm
Comments Off

on HARDWARE Fabrique Nationale Tactical Police Shotgun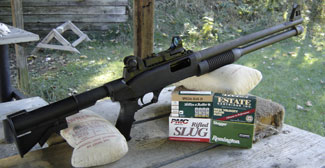 Product Testing Articles
by the Staff of Manhattan Shooting Excursions
Originally Published in The Bullet, The Journal of the New York State Rifle & Pistol Association
Much of the attention in the gun press has focused on sub-machine guns, tactical carbines, defensive handguns, and sniper rifles. Shotguns, though a primary weapon for police and corrections officers, tend to get short shrift despite being multipurpose adaptable, available without special licenses, affordable, and extremely effective hardware within their range.
This issue's test will focus on the FN Tactical Police Shotgun ("TPS") which debuted in late 2003. This pump action 12 gauge is an improved Winchester 1300, and is made by a related company of FN, U.S. Repeating Arms Co. The guns are virtually identical mechanically, but the TPS has significant "tactical" features that could expand its mission capability from close to intermediate range encounters if it shot slugs accurately and would allow rapid follow up shots. These features are: CAR16 collapsible stock, M16A2 pistol grip, fully adjustable sights and winter trigger guard, M1913 Picatinny receiver rail drilled and tapped for the optional C-More red dot sight, and a ported barrel.
Advertisements claim that the TPS' similarity to the M-16 is "helpful for crossover training". Non-sense! The guns have entirely different fire control, functionality, maintenance procedures, capabilities and available ammunition.
Fit, Appearance, Workmanship
The TPS is finished in an attractive non-reflective light gray parkerizing on barrel and magazine, and black anodizing on the aluminum receiver and front sight. The trigger guard was plastic. Fit and finish were very good with no tool marks or sharp edges.
The manual was well written and illustrated, but was for the FN branded version of the Winchester 1300, not the TPS, and it did not mention the TPS' additional features. Disassembly/reassembly presented no problems thanks to the excellent manual.
Ergonomics & Function
Like the Winchester 1300, the TPS has design shortfalls: it lacks a magazine cut-off and has an awkward slide release button. These features are important in a tube fed combat shotgun when the operator desires to change loads (e.g. slug to buckshot, lethal to bean bag or tear gas.) The TPS' release button is small and smooth requires a change of grip of the firing hand. It is more difficult to activate wearing gloves. (Compare to the Remington 870 and Ithaca 37 releases that are mounted on the front of the trigger guard and can be rapidly activated with the trigger finger of either hand even in the dark.)
The TPS has an "inertia assisted" action which helps it function quickly by using recoil to start the rearward movement of the slide and unlocking of the 4 lug rotary bolt that locks directly to the barrel.
This pump cycled smoothly and quickly. Combined with the ported barrel and straight line design (no drop at the comb), and pistol grip, we had no problem with rapid follow up shots.
The TPS' trigger let-off was a very reasonable 6.5 lbs. with minor creep, and the crossbolt safety in the front of the trigger guard was positive.
The three position CAR16 butt stock was clearly a poor choice for this gun even though it was sturdy. This stock design is very dated, has minimal rear surface area and no real cheek piece. It was designed for the light recoiling M16, not a shotgun. Shooting high brass loads from the bench was an exercise in recoil tolerance.
The C-More sight is a good match to the TPS. It is mounted to allow the operator to use either iron sights or the C-More, and it did not impair quick iron sight acquisition when the rear aperture was set to the ghost ring. To sight in, zero the iron sights, then adjust the C-More red dot to appear just over the top of the front sight.
Performance
We tested the TPS using 4 brands of full power slugs and one brand of buckshot. Accuracy with slugs was dismal. The best 5 shot group we could get was 7.5″ at 50 yards using Estate 1 oz. loads and shooting off sandbag rests using the C-More sight. Slugs from Remington, PMC and S & B turned in groups up to 10″. A few of the Sellier and Bellot rounds showed signs of starting to tumble. Imagine how your accuracy would degrade when firing from an unsupported position under stress.
With 00 twelve pellet Sellier & Bellot buckshot, the TPS shot 25 yard patterns with an average spread of 14″. Often, however, 7-8 pellets were in about a 7-10″ uneven pattern. We would have liked a tighter spread with all 12 pellets since we prefer a shotgun with a 35 yard 12″ spread. However, how much spread is ideal is for our readers to determine for themselves. Time constraints limited our buckshot testing to one brand, and we recommend testing with other brands.
The long radius M16A2 style sights were excellent, and we regretted the poor performance of the TPS using lugs. These sights would allow this gun to be a real contender at 75-100 yards if it were accurate. However, the sights were poorly regulated. We had to move the rear sight to its extreme left and the front sight had to be adjusted for elevation (because the rear sight was at its lowest point of adjustment) to get shots to impact onto the point of aim.
Conclusion
The TPS is eye catching, well made and has several desirable features in a tactical gun, but is limited to buckshot and close range slug shots for most practical applications. Its inaccuracy with slugs at ranges suitable to the supplied M16 style sights, use of the inadequate Winchester 1300 design and inappropriate butt stock largely neutralized the benefits of these additional features. (Slug accuracy was so poor that we decided to contact the maker to see if this particular gun was defective. We will advise you in the next issue of their response.)
Hardware editor in chief Andy Massimilian thanks Ulster County FFL John Crispell (www.crispellsports.com) for the use of his facility for testing the TPS.
Suggested Feature Improvements
Incorporate magazine cut-off switch
Improve butt stock
Change magazine follower to bright orange from black
Incorporate an ammo mount on left side of receiver
Include an adapter for the front sling mount to allow for side mounting of a sling for front of body carry
Technical Specifications
Action: Pump, tube fed
Gauge: 12, 2.75″ or 3″
Capacity: 7 + 1
Barrel Length: 18″ ported
Construction: Steel barrel and magazine, aluminum receiver, plastic stock
Length: 37.75″ with stock fully extended, 34.5″ fully retracted
Weight: 6.5lbs. unloaded
Length of Pull: 13.5″ with extended stock
Trigger Pull: 6.5 lbs.
Accessories: C- More 6 MOA red dot sight
Choke: Backbored MSRP: $875 excluding C-More sight
Manufacturer: U.S. Repeating Arms Co., New Haven, CT
Categorised in: Uncategorized
This post was written by elitesadmin